About us
If you've been missing unique, feminine style in your daily workout routine, that makes you feel comfortable and beautiful, then in you're in the right place! Second You is a brand from women for women that was inspired by movement and physical activity, designed with the need for beauty and individuality in mind… always and everywhere, even during intense workouts & to ensure security and comfort during your exercises.
What makes us stand out?
We are unflinching in our effort to ensure the highest quality - in the end, it concerns your comfort and well-being. We love original designs and unique patterns on our fabrics, inspired by ethnic tattoos - that's our signature idea. We guarantee uniqueness - our collections are limited and never repeated. Apart from that, we're open to individual requests. Do you have other colour combinations in mind? Are you looking for leggings in your favouritecolour? Let us now - we love new challenges!
How is Second You clothes made?
Designing | The specific models are made based on our own experiences and conversations with women who inspire, educate and motivate us to keep going. We sketch our ideas whenever we get the chance, on any piece of paper available, which sooner or later goes to specialists who construct our visions and make them come to life. The patterns on our fabrics are an especially important element of our brand identity. Ethnic artwork, tattoos especially, are the starting point for all our designs. The original prints give our clothes unique character. Second You products are like a second skin and through them, you can discover your true nature - the second you.
Manufacturing | We never look for easy solutions… quite the opposite - we value challenges and hard work. It's the end result that counts, which to us means uniqueness, proper execution and durability. We can't allow for compromises or makeshift solutions here. We trust our partners because we know they care as much as we do about high quality. All of our products are Polish and the entire manufacturing process takes place locally. This way we avoid unnecessary transport across the globe because our planet is also important to us.
Testing | Second You clothing is tested during intense workouts, during different kinds of sports activities. We test for all kinds of resistance, temperature, rainfall, wind, sun… and frequent washing, too.
Improving! All the time - based on your comments, suggestions and experiences.
Making dreams come true... Every woman is different and we all probably have had some problems with finding the right cut or style of clothing. For Second You this isn't an issue at all. If the strap is too short or the band too wide - no problem! Get in touch and we'll adjust any model to your individual needs.
All cut-outs, same for shirts, tops and leggings, are printed separately so that their pattern make up a particular design. That's why we're able to create different variations of our designs, according to individual orders: with colour, size, and print of choice.
Discover your second nature! Discover Second You!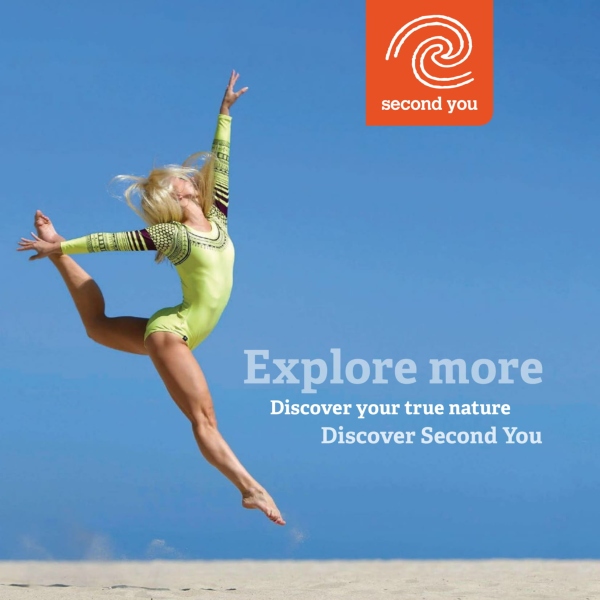 You can download the catalogue by clicking on the link below: